Activity Details
Trip.com will partner various charities and organisations throughout the SRV campaign. Under this specific Pay It Forward programme, the donation of the products bought using your SingapoRediscovers Vouchers will enable the beneficiaries from Life Community Services Society (LCSS) to enjoy an enriching experience at S.E.A. Aquarium, and make their dreams come true.
Together, We Can Make A Difference.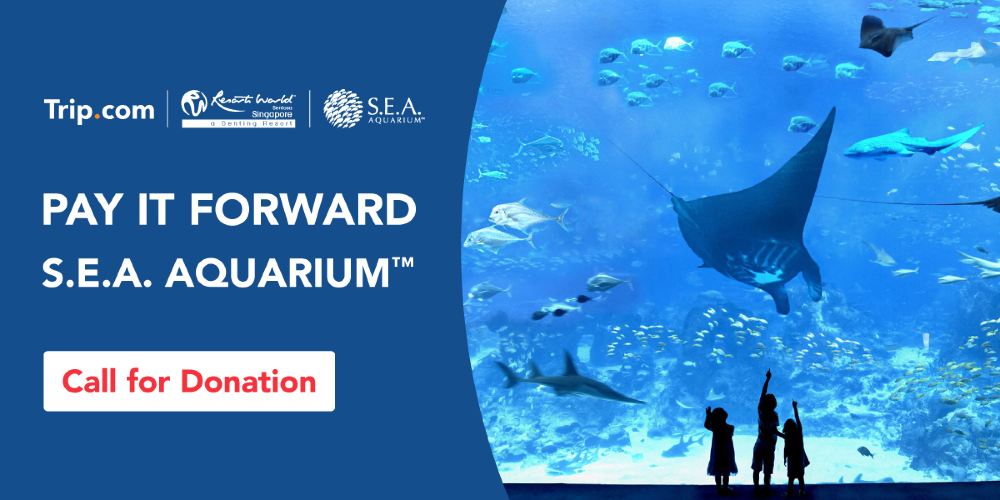 About S.E.A. Aquarium
S.E.A. Aquarium at Resorts World Sentosa is one of the world's largest aquariums. It is home to more than 100,000 marine animals representing 1,000 species in more than 45 diverse habitats.
S.E.A. Aquarium exhibits close to 80 threatened species including the manta ray, Napoleon wrasse and a variety of beautiful corals that mirror a pristine aquatic environment. Through interactive programmes, up-close animal encounters and immersive learning journeys, S.E.A. Aquarium aims to inspire visitors to protect the world's oceans.
Recently revamped in Nov 2020, S.E.A. Aquarium has been rezoned into nine distinct areas, boosted with refreshed educational content and immersive audio-visual experiences, making it more reader-friendly for families.
About Life Community Services Society
Life Community Services Society (LCSS) is a non-profit, social service agency (SSA) registered under the National Council of Social Services (NCSS), with a mission to empower children and families through care and mentoring. Annually, we serve over 1,000 children and families from low-income and vulnerable backgrounds including children with at least one parent presently or formally incarcerated, through four core programmes.
Our programmes focus on intervention work, including preventive, remedial and holistic development (character, moral values, social and emotional well-being) to reduce potential problems such as crime, drug abuse and poor academic, physical, social and mental health.
Our aim is for our beneficiaries to build strong foundations in their growing years and to reach their fullest potential, with resilience and purpose, later in life.
Booking Validity
Valid indefinitely, Valid for 1 use(s) only
Inclusions
Donation of One Ticket for S.E.A. Aquarium
Exclusions
E-tickets for S.E.A. Aquarium
Change & Refund Policies
Once this product is successfully booked, it cannot be changed or cancelled
How to Use It
Terms & Conditions

Products redeemed with SingapoRediscovers Vouchers are non-refundable and non-resellable.

Terms and conditions on the use of SingapoRediscovers Vouchers apply. Visit

Singapore Tourism Board

for more information.

------------------------------------------------------------------------------------------------------------------------

Check your remaining SRV on SingPass.

Choose the type and number of tickets you wish to purchase and donate to our beneficiary group.

At checkout page, click the SRV button to redeem your promo code.

Copy the promo code and complete payment on Trip.com.

After donation completed, you will receive Trip.com's confirmation email instead of actual tickets for S.E.A. Aquarium.
Activity Essentials
Traveller Information
Adult: Age 18+
Child: Age 4 to 12
Important Information
This activity is NOT applicable for $10 child subsidy.
This activity is NOT applicable for any Trip.com promotion or discounts.
If the donation amount exceeds your SRV balance, you may complete the payment by cash or credit card.
Trip.com will work with the charity and attraction to fulfill the objective of the programme.