Activity Details
Trip.com will partner various charities and organisations throughout the SRV campaign. Under our fifth Pay It Forward campaign (from 25 January to 28 February 2021), we hope to bring children and youths from Club Rainbow (Singapore) and their accompanying caregivers to Madame Tussauds Singapore.
The donation of the products bought using your SingapoRediscovers Vouchers will enable these beneficiaries to enjoy an enriching experience at the attraction and make their dreams come true.
Together, We Can Make A Difference.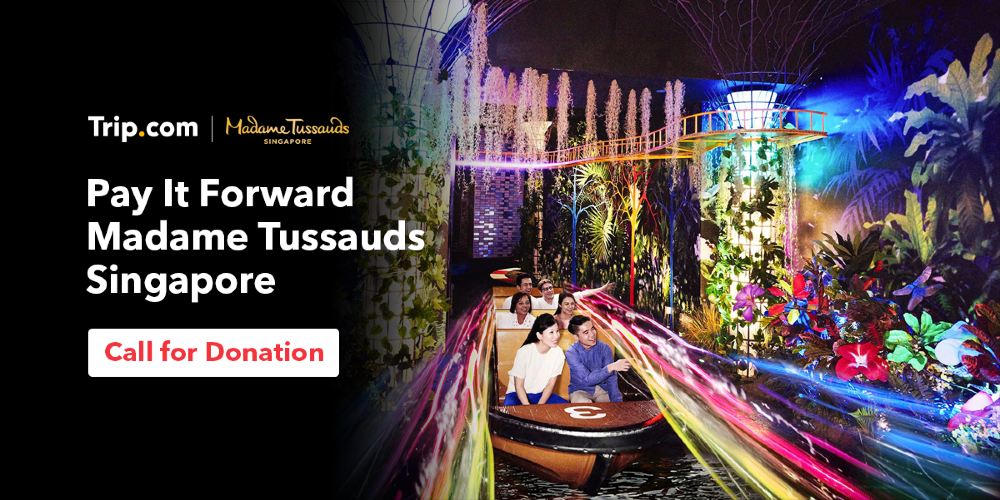 About Club Rainbow (Singapore):Established in 1992, Club Rainbow (Singapore) (CRS) is a non-profit organisation and charity with the mission to support and empower children with chronic illnesses and their families. Armed with the firm belief that every child deserves equal opportunities to lead a fulfilling and independent life, CRS supports them in more than 30 critical programmes, services and assistance schemes. Adopting a holistic approach based on five core pillars of support: Social Work Intervention, Therapy Intervention, Educational Support, Arts and Vocational Development, CRS partners our children and their families in their journey to achieve key objectives at each stage of their lives.
In 2019, CRS served close to 1,200 children who range from new-born to youth of aged 20 years old. With over 85% of children surviving into adulthood, CRS provides the resources and opportunities to support their development towards becoming empowered, independent individuals and active contributors of the society. For more information on Club Rainbow (Singapore), please visit https://www.clubrainbow.org/.
Booking Validity
Valid indefinitely, Valid for 1 use(s) only
Inclusions
Donation of One Child/Adult Ticket for Madame Tussauds Singapore
Exclusions
E-tickets for Madame Tussauds Singapore
Change & Refund Policies
Once this product is successfully booked, it cannot be changed or cancelled
How to Use It
Terms & Conditions

Products redeemed with SingapoRediscovers Vouchers are non-refundable and non-resellable.

Terms and conditions on the use of SingapoRediscovers Vouchers apply. Visit

Singapore Tourism Board

for more information.

------------------------------------------------------------------------------------------------------------------------

Check your remaining SRV on SingPass.

Choose the type and number of tickets you wish to purchase and donate to our beneficiary group.

At checkout page, click the SRV button to redeem your promo code.

Copy the promo code and complete payment on Trip.com.

After donation completed, you will receive Trip.com's confirmation email instead of actual tickets for Madame Tussauds Singapore.
Activity Essentials
Traveller Information
Adult: Age 18+
Youth/Child: Age 17 or below
Important Information
This activity is NOT applicable for $10 child subsidy.
If the donation amount exceeds your SRV balance, you may complete the payment by cash or credit card.
Trip.com will work with the charity and attraction to fulfill the objective of the programme.