Activity Details
This is not a Skyline Luge Singapore ticket. After you have successfully received the Trip.com e-tickets, guests are required to make a time slot booking prior to their visit at https://www.skylineluge.com/en/sentosa/3rd-party-bookings/ .
Proceed to the ticketing counter with your Trip.com e-ticket and confirmation email for a Skyline Luge Sentosa time slot booking and you will be given a physical ticket. Remember to complete all necessary COVID-19 Safety Measures check-ins.
Skyline Luge Singapore is a fun Singapore attraction which offers a truly unique outdoor experience suitable for all ages that is not found anywhere else in Singapore or Southeast Asia. The Luge is a unique wheeled gravity ride that provides riders full control over their descent on purpose built Luge track. One of the most thrilling places to visit in Sentosa Island, Skyline Luge offers a fun family friendly adventure activity. Navigate down 650 metres of the Jungle Trail or the 688 metre Dragon Trail as thrillingly fast or cruising slow as you like. After the Luge, board the Skyride chairlift and take in the fantastic panoramic scenery of the Singapore city skyline and beautiful coastline of Sentosa Island. Truly an experience not to be missed!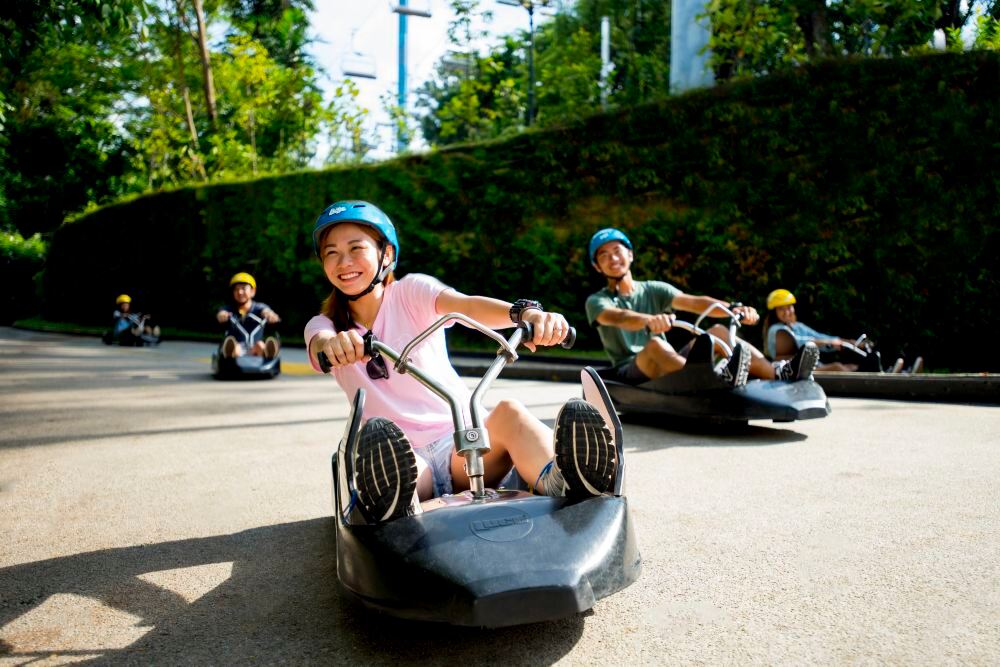 As darkness settles, a whole brand-new adventure awaits you. Thrill-seekers will discover a different challenge while riding down each Luge track with unique lightings.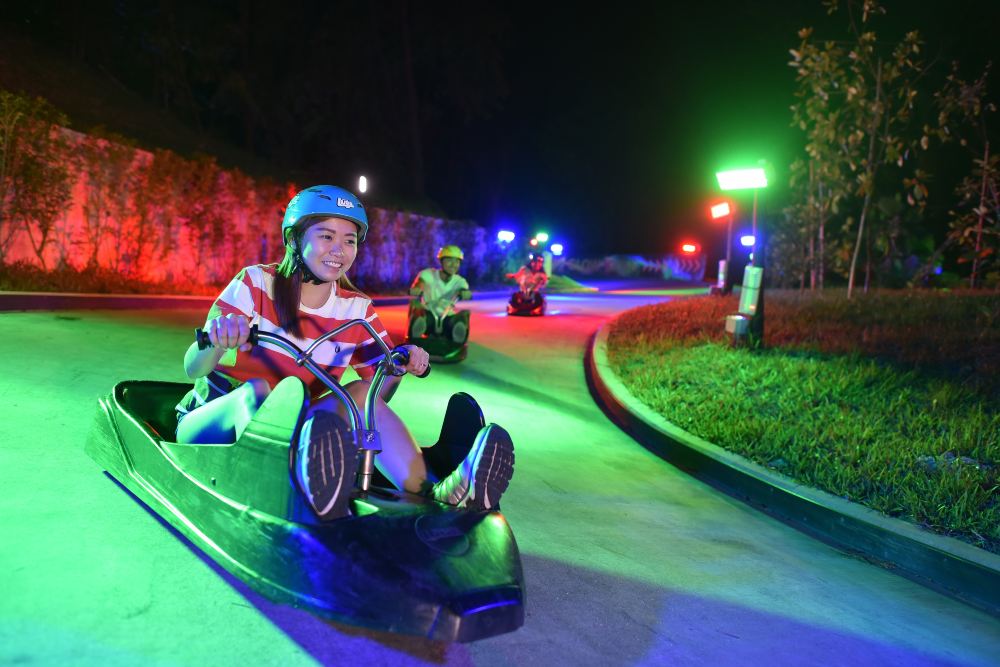 Inclusions
Skyline & Luge ticket for your chosen number of rounds
Based on your ticket selection, you'll be entitled to 1 digital photo
Exclusions
All personal expenses and expenses not mentioned in the inclusions
Change & Refund Policies
Once this product is successfully booked, it cannot be changed or cancelled
How to Use It
All times are given in local time
After successful booking on Trip.com, guests are required to make a reservation prior to visit at https://www.skylineluge.com/en/sentosa/3rd-party-bookings/.
After you confirm the selected date/time, you cannot change the date and time of the park visit.
Please do note that the time slot are for guests to arrive on site, guests that arrives too early/late will be rejected at our discretion. All bookings will be mandatory. Walk-in guests will be turned away.
Upon arrival at Skyline Luge Sentosa (either Siloso Beach or Imbiah Lookout), proceed through LANE 2 to present this voucher at the ticketing counter, together with your timeslot booking confirmation email, to exchange for a physical Luge ticket.
Skyline Luge Sentosa will be open Sunday to Thursday 11am – 7.30pm, last entry will be 6.30pm and Friday and Saturday 11am – 9.30pm, last entry will be 8.30pm.
Each session is limited. First come first served.
Address: 45 Siloso Beach Walk, Sentosa Island 099003, Singapore
The voucher will be valid for used on any day within the validity period as shown on the voucher
Activity Essentials
Guests are required to make a time slot booking prior to their visit at https://www.skylineluge.com/en/sentosa/3rd-party-bookings/
Riders must meet the required age, height to be able to ride the Luge & Skyride, please refer to Skyline Luge Sentosa's conditions of participation for more information.
Each ticket is strictly for 1 person. Rides cannot be shared between guests.
Important Information
Please provide your personal information and contact details when booking
Multi-ride tickets must be used by the same person for every ride. No replacement is allowed in the middle of the journey
Please note that Skyline will be periodically under maintenance and there might not be any advance notice. During maintenance mode, your ticket can only be used for the Luge. If you want to enjoy both experiences, please change the date before the ticket's expiration date. Refunds are not available in this situation
Luge: Children must be at least aged 6+ and 110cm tall to ride the Luge alone
Children under 110cm tall or below age 6 who can walk unassisted can ride the Luge in tandem with an adult by purchasing the Child Doubling ticket
Children who do not meet the specified height requirements can ride the Luge with an adult by purchasing the Child Doubling ticket on the spot (SGD3 per Luge ride)
Skyride: Children must be at least 135cm in height to be able to ride on the Skyride alone
Children must be at least 85cm in height to be able to ride on the Skyride with an adult
Passengers who are pregnant, have back problems, heart conditions, motion sickness or vertigo should not participate
Please note that you should pick the electronic photo you like with your helmet before you return it back
Please note that Skyline Luge Sentosa is not operating on Tuesdays and Wednesdays from March 31, 2020
Children under the age of 6 can ride with a full-price adult for an additional fee of SGD 3 per ride (paid at the counter onsite)
Starting February 1, 2021, all visitors have to make reservations here (Please note that the time slots refer to the time for guests to arrive on site and guests that arrive too early/late may be rejected at the discretion of the venue)