Activity Details
The World Of Nickelodeon Singapore 2022
Fans of SpongeBob SquarePants, PAW Patrol, Rise of the Teenage Mutant Ninja Turtles, Dora the Explorer and Bubble Guppies – have we got news for you! "The World of Nickelodeon" is coming to Singapore from 26th Feb 2022.
The first-ever Nickelodeon-themed entertainment centre to hit our shores is the perfect destination for families to have a fabulous day out! A world of immersive games await you: Get to go on a Jellyfish Hunt, join the Adventure Bay Fire Rescue, try The Ninja Vertical Challenge, and have the bounciest time ever at the Jungle Jump-a-thon.
Recharge at the one-of-a-kind Slime Lounge, before hitting the Bikini Bottom Bubble Bash or a final Mutant Mission!
Standby your cameras for the show locations that you've always wanted to visit, and lookout for opportunities to meet your favourite Nickelodeon characters. Family-friendly delights for fans of all ages!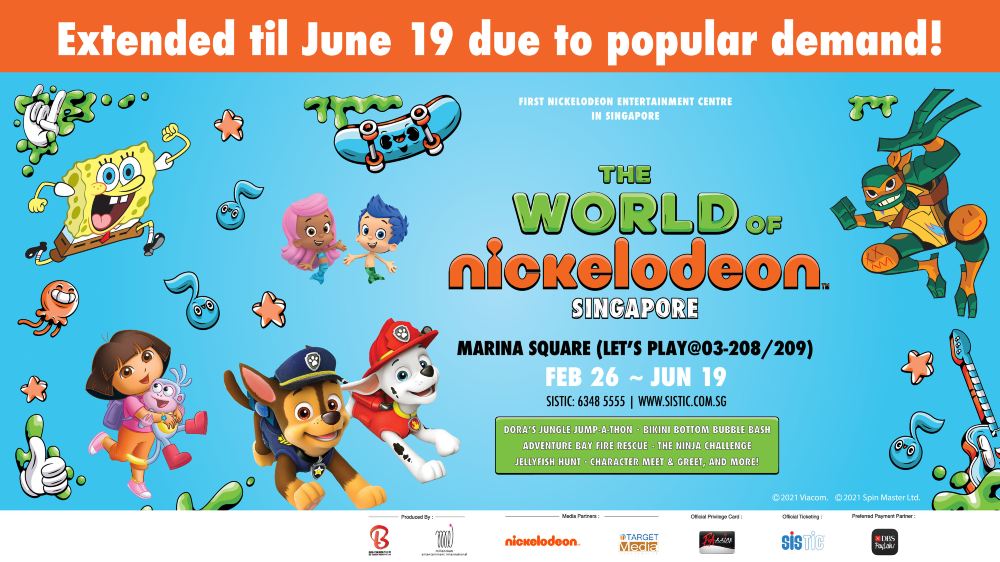 Inclusions
Entrace to the Exhibition
SGD 3 Booking Fee Per Person
Change & Refund Policies
Once this product is successfully booked, it cannot be changed or cancelled
How to Use It
All times are given in local time.
Present the e-voucher on your phone to gain admission
Address: Let's Play @ #03-208/209 - Marina Square
Please arrive 10 mins prior to your designated time slot. Admission will start promptly at the selected time slot.
Date: 26th Feb 2022 - 17th Apr 2022
Timeslots: 10am, 12pm, 2pm, 4pm, 6pm & 8pm.
Activity Essentials
Duration: Approximately 1 hour 30 mins, inclusive of intervals.
Language: English
Important Information
Ticketing and Admission Rules
One ticket per person regardless of age, ticket is not refundable and exchangeable.
Guest must present a valid ticket prior to enter the premises, damaged or copied tickets are not allowed.
The ticket must be used by the same period during its time slot, each ticket could only be used once.
Guest under age 8 must be accompanied by a Guest aged 16 or older to enter the premises. Please take care and supervise of your accompanies at all times.
Operation hours are from 10:00am to 10:00pm daily during the Event Period. (9:30-10:00 p.m.is cleaning time)
Advance reservation is required prior to your visit. Event time slots are clearly listed in the ticketing page, reservation is subjected to the capacity restriction, please refer to the relevant booking details
Guest should ONLY come on the reserved event date and time slot.
Guest should attend their reserved time slot on time, each session is 90-minutes. Late comer(s), at the same time slot, is allowed but no extra time will be given to the late comer(s).
Handstamp is required for re-entry at the same time slot. Without re-entry handstamp and/or authorized identification, re-entry to the premises is not allowed.
Proper attire must be worn at all times. We reserve the right to deny admission to or to remove any person wearing attire that we consider inappropriate or attire that could detract from the experience of other Guests.
Socks must be worn in designated activities, barefoot and footwear are not allowed.
Access to activities is subjected to the safety rules of each activity. Certain activities with age and/or height restrictions, please follow the instruction of our guest relation members.
Please follow guest relation member's instructions, comply with all notices and consider the safety of other Guests when parking and/or locking your stroller
Guest should deploy SafeEntry via TraceTogether-only SafeEntry to log the check-in to the premises.
We reserve the right to deny admission or remove any Guest with flu and/or COVID-19 symptoms; we will arrange for a separate session for your return.
Please check the COVID-19 policies for indoor and/or public event announced by Ministry of Health (http://www.moh.gov.sg) regularly. In addition to valid ticket, Guest must comply with COVID-19 policies to be permitted to enter the premises
Please follow the admission rules and regulations of the shopping mall, Marina Square. (details please visit https://www.marinasquare.com.sg/)
The following activities are NOT allowed in the premises:
Damaging or taking away any Event/activities related decoration, 3-dimentional display items and props.
The use of selfie sticks, camera stands/tripods.
Smoking, eating and drinking (except baby formula)
Unauthorized events, sale of goods and services, promotion and handbill.
Devices with wheels, including but not limited skateboards, scooters, inline skates, shoes with built-in wheels and wheeled luggage
Other items that we determine may be illegal, dangerous, harmful, disruptive, offensive or may impede the operation of the Entertainment Centre or any associated facility.
Animals
Engaging in any unsafe act or other act that may impede the operation of the Entertainment Centre or any associated facility
General Terms & Conditions
The Organizer reserves the right to change, modify, add or remove any of the activities, operation & admission policies, and character meet & greet arrangement without prior notice
CCTVs are placed and recording inside the premises during the operation hours.
Photography and videography are permitted, but not while experiencing the activities.
The Organizer is not responsible for any lost, stolen or damaged personal articles. For lost of any item, please approach our guest relation members for assistance.
Guest should consider your and your accompanies' physical condition and strength before participate in any activity provided in the premises. The Organizer and/or affiliates assumes no liability and responsibility for any personal injuries or damages of personal belongings occurred.
For emergency, please follow the instruction of our guest relation members.
In the event of any disputes, the Organizer reserves the right of the final decision.