Activity Details
Trip.com will partner various charities and organisations throughout the SRV campaign. Under this specific Pay It Forward programme, the donation of the products bought using your SingapoRediscovers Vouchers will enable the beneficiaries from CARE Singapore to enjoy an enriching experience at Singapore River Safari, and make their dreams come true.
Together, We Can Make A Difference.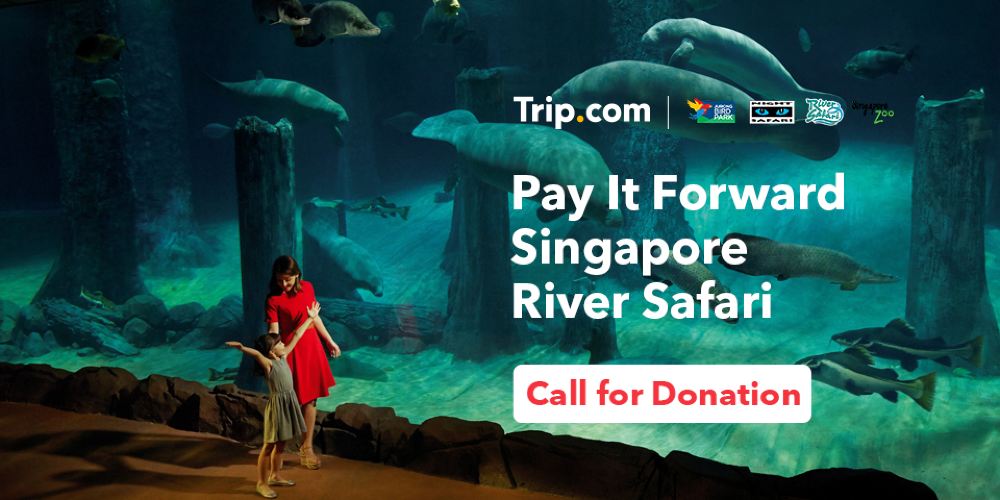 About CARE Singapore
Established in 1997, CARE Singapore is a boutique youth-focused charity helping at-risk youths find direction, hope and success.
CARE Singapore is passionate about caring for the mental health of young persons and the community around them. In 2019/20, we conducted 1864 therapy sessions for more than 550 students, and helped over 1800 persons through our helpline during the circuit breaker.
Our youth work division engaged over 1,200 students from 10-15 years of age and your donation of tickets helps us run these programmes more effectively.
CARE's core values spells FIRE. Join us to fan these flames of love and spread warmth to those who need it.
Website: http://care.sg
Facebook: http://facebook.com/CARE.Singapore
About River Safari
Nestled between the Singapore Zoo and Night Safari, the River Safari is both a river-themed zoo and aquarium. Singapore's newest wildlife park has over 6,000 animals, including 40 threatened species, with zones that replicate the habitats of rivers across the world, from the Mississippi to the Yangtze.
Booking Validity
Valid indefinitely, Valid for 1 use(s) only
Inclusions
Donation of One Ticket for River Safari
Exclusions
E-tickets for River Safari
Change & Refund Policies
Once this product is successfully booked, it cannot be changed or cancelled
How to Use It
Terms & Conditions
Products redeemed with SingapoRediscovers Vouchers are non-refundable and non-resellable.
Terms and conditions on the use of SingapoRediscovers Vouchers apply. Visit Singapore Tourism Board for more information.
------------------------------------------------------------------------------------------------------------------------
Check your remaining SRV on SingPass.
Choose the type and number of tickets you wish to purchase and donate to our beneficiary group.
At checkout page, click the SRV button to redeem your promo code.
Copy the promo code and complete payment on Trip.com.
After donation completed, you will receive Trip.com's confirmation email instead of actual tickets for River Safari.
Activity Essentials
Traveller Information
Adult: Age 18 to 59
Senior: Age 60+
Important Information
This activity is NOT applicable for $10 child subsidy.
If the donation amount exceeds your SRV balance, you may complete the payment by cash or credit card.
Trip.com will work with the charity and attraction to fulfill the objective of the programme.