Activity Details
Trip.com will partner various charities and organisations throughout the SRV campaign. Under this specific Pay It Forward programme, the donation of the products bought using your SingapoRediscovers Vouchers will enable the beneficiaries from Babes Pregnancy Crisis Support Ltd to enjoy an enriching experience at Singapore Zoo, and make their dreams come true.
Together, We Can Make A Difference.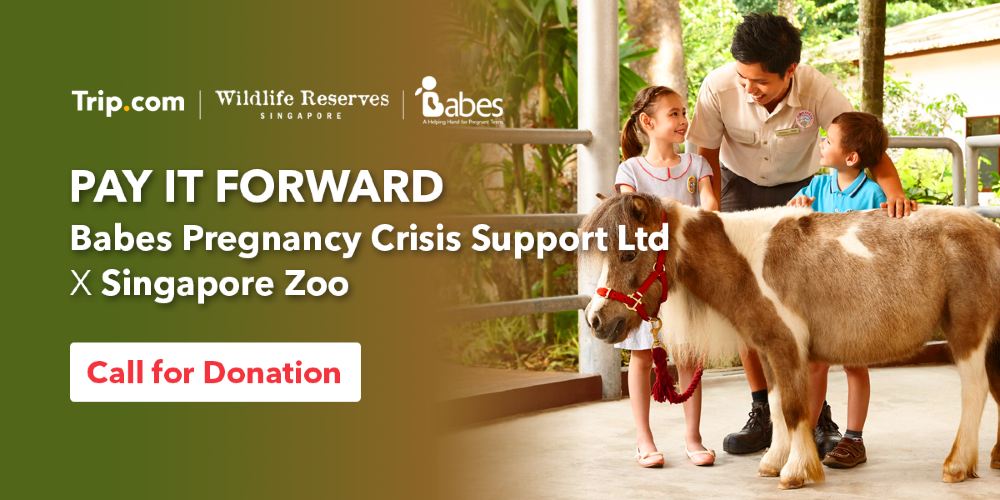 About Babes Pregnancy Crisis Support Ltd
Babes Pregnancy Crisis Support Ltd (Babes) is a pro-choice organisation that is committed to ensuring that every pregnant teenager in need of support be aware of the options she has and is given the opportunity to make an informed decision with regards to her pregnancy. At Babes, we also believe that support from her family, friends and wider community is essential for a pregnant teenager to make her decision responsibly and for her to experience a sense of normalcy in this difficult period. We journey with every pregnant teenager keeping in mind the long-term goal of increased wellbeing during pregnancy and better preparedness to cope in the future.
About Singapore Zoo
Located on the north-western side of the island, the Singapore Zoo is a haven for wondrous wildlife and a must-visit for animal lovers.
This beloved establishment first opened its gates to the public in 1973, and has since become one of the best rainforest zoos in the world.
Besides being home to over 2,800 animals from 300 species—including crocodiles, Malayan tapirs and white tigers—the zoo has won a trove of international and local awards.
These include plaudits from Forbes Traveler as one of the best zoos in the world, the Asian Attraction Awards for Most Popular Attraction in the Wildlife Park category and the STB 22nd Tourism Award for Best Leisure Attraction Experience of the Year. It was ranked as one of the 3 zoos in the world by the TripAdvisor Travellers' Choice Award in 2018.
Booking Validity
Valid indefinitely, Valid for 1 use(s) only
Inclusions
Donation of One Ticket for Singapore Zoo
Exclusions
E-tickets for Singapore Zoo
Change & Refund Policies
Once this product is successfully booked, it cannot be changed or cancelled
How to Use It
Terms & Conditions
Products redeemed with SingapoRediscovers Vouchers are non-refundable and non-resellable.
Terms and conditions on the use of SingapoRediscovers Vouchers apply. Visit Singapore Tourism Board for more information.
------------------------------------------------------------------------------------------------------------------------
Check your remaining SRV on SingPass.
Choose the type and number of tickets you wish to purchase and donate to our beneficiary group.
At checkout page, click the SRV button to redeem your promo code.
Copy the promo code and complete payment on Trip.com.
After donation completed, you will receive Trip.com's confirmation email instead of actual tickets for Singapore Zoo.
Activity Essentials
Traveller Information
Adult: Age 18+
Important Information
This activity is NOT applicable for $10 child subsidy.
If the donation amount exceeds your SRV balance, you may complete the payment by cash or credit card.
Trip.com will work with the charity and attraction to fulfill the objective of the programme.