Activity Details
Trip.com will partner various charities and organisations throughout the SRV campaign. Under this specific Pay It Forward programme, the donation of the products bought using your SingapoRediscovers Vouchers will enable the beneficiaries from SHINE Children and Youth Services to enjoy an enriching experience at Captain Explorer DUKW Tour and make their dreams come true.
Together, We Can Make A Difference.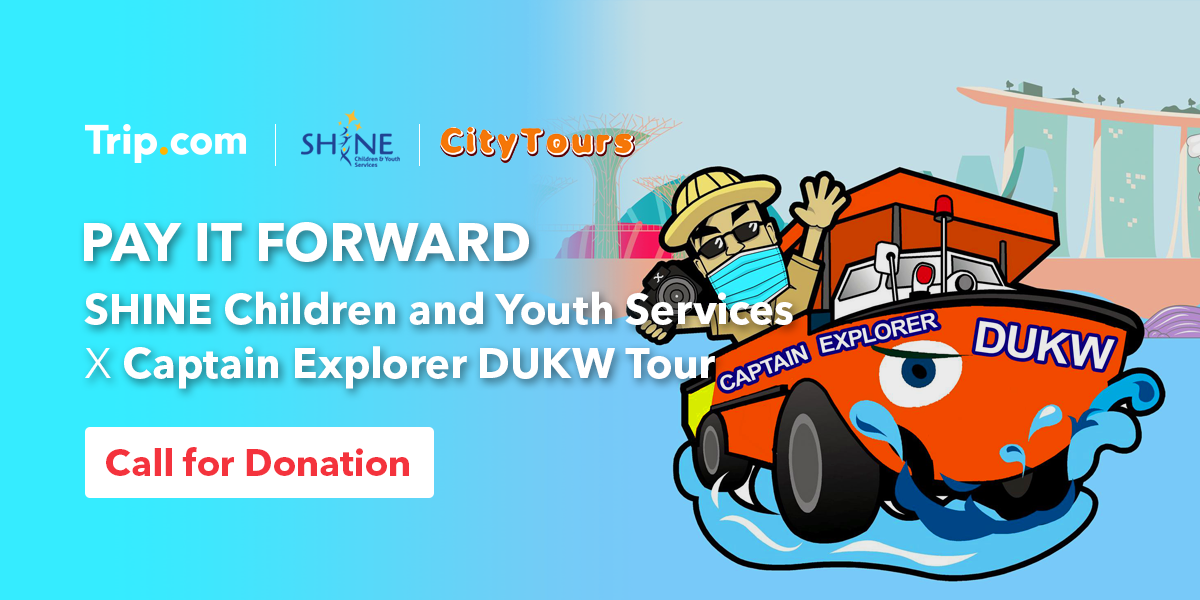 About SHINE Children and Youth Services
SHINE Children and Youth Services is a registered charity and a member of National Council of Social Service. We have been serving vulnerable children, youth and their families in Singapore since 1976 and remain committed to enabling them to maximise their potential. SHINE serves around 5,000 students, aged 5-21 years old, each year. The work we do helps to build young lives, enhances their resilience and SHINE the light of hope for their future.
About Captain Explorer DUKW Tour
The fun begins when you board an authentic revamped Vietnam War era vehicle.
You'll be accompanied by our friendly Professional Tour Guide who will be assisting you through the DUKW® Tour. Start off with a city exploration, a drive around the city landmarks like The Esplanade, Padang, National Gallery, City Hall and War Memorial. And just when you think you've seen it all, there's more. It's time for "Splashdown" in the waters of Marina Bay for a breathtaking view of the Merlion, Singapore River, the iconic Marina Bay Sands, view Esplanade Theatres on the Bay and Singapore skylines, the kind of view you just won't get anywhere else.
So take the ride of your life. Hop on a Captain Explorer DUKW® Tour for a 55 mins fun!
Booking Validity
Valid indefinitely, Valid for 1 use(s) only
Inclusions
Donation of One Ticket for Captain Explorer DUKW Tour
Exclusions
E-tickets for Captain Explorer DUKW Tour
Change & Refund Policies
Once this product is successfully booked, it cannot be changed or cancelled
How to Use It
Terms & Conditions
Products redeemed with SingapoRediscovers Vouchers are non-refundable and non-resellable.
Terms and conditions on the use of SingapoRediscovers Vouchers apply. Visit Singapore Tourism Board for more information.
------------------------------------------------------------------------------------------------------------------------
Check your remaining SRV on SingPass.
Choose the type and number of tickets you wish to purchase and donate to our beneficiary group.
At checkout page, click the SRV button to redeem your promo code.
Copy the promo code and complete payment on Trip.com.
After donation completed, you will receive Trip.com's confirmation email instead of actual tickets for Captain Explorer DUKW Tour
Activity Essentials
Traveller Information
Adult: Age 18+
Child: Age 3 to 17
Important Information
This activity is NOT applicable for $10 child subsidy.
If the donation amount exceeds your SRV balance, you may complete the payment by cash or credit card.
Trip.com will work with the charity and attraction to fulfill the objective of the programme.