Activity Details
Trip.com will partner various charities and organisations throughout the SRV campaign. Under this specific Pay It Forward programme, the donation of the products bought using your SingapoRediscovers Vouchers will enable the beneficiaries from Life Community Services Society (LCSS) to enjoy an enriching experience at Singapore Zoo and Singapore River Safari, and make their dreams come true.
Together, We Can Make A Difference.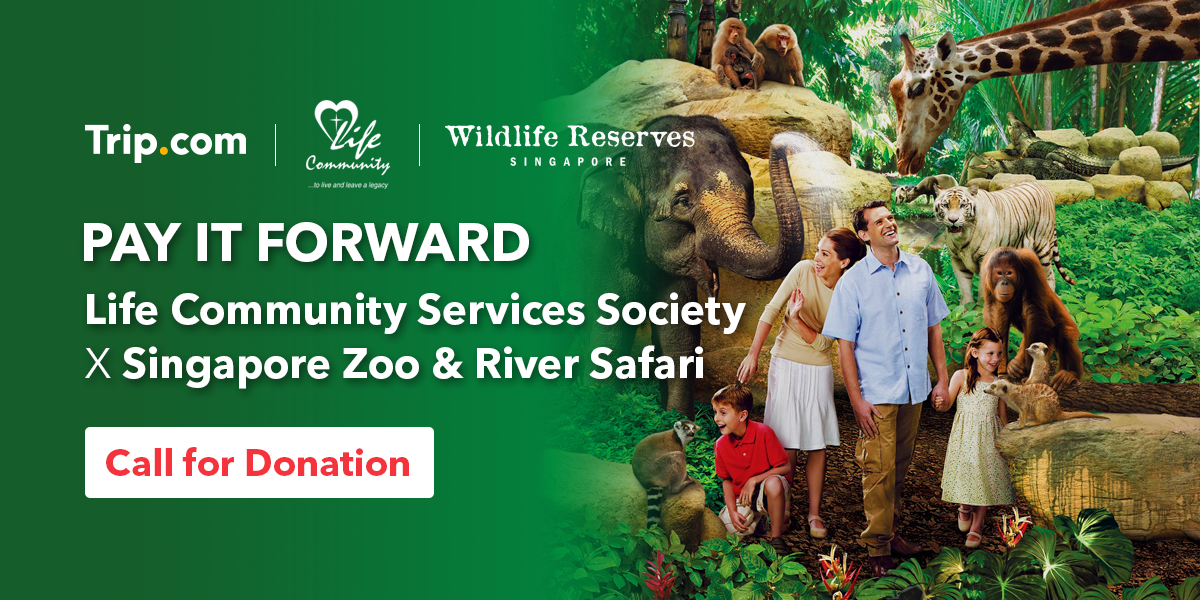 About Life Community Services Society
Life Community Services Society (LCSS) is a non-profit, social service agency (SSA) registered under the National Council of Social Services (NCSS), with a mission to empower children and families through care and mentoring. Annually, we serve over 1,000 children and families from low-income and vulnerable backgrounds including children with at least one parent presently or formally incarcerated, through four core programmes.
Our programmes focus on intervention work, including preventive, remedial and holistic development (character, moral values, social and emotional well-being) to reduce potential problems such as crime, drug abuse and poor academic, physical, social and mental health.
Our aim is for our beneficiaries to build strong foundations in their growing years and to reach their fullest potential, with resilience and purpose, later in life.
About Singapore Zoo
Located on the north-western side of the island, the Singapore Zoo is a haven for wondrous wildlife and a must-visit for animal lovers.
This beloved establishment first opened its gates to the public in 1973, and has since become one of the best rainforest zoos in the world.
Besides being home to over 2,800 animals from 300 species—including crocodiles, Malayan tapirs and white tigers—the zoo has won a trove of international and local awards.
These include plaudits from Forbes Traveler as one of the best zoos in the world, the Asian Attraction Awards for Most Popular Attraction in the Wildlife Park category and the STB 22nd Tourism Award for Best Leisure Attraction Experience of the Year. It was ranked as one of the 3 zoos in the world by the TripAdvisor Travellers' Choice Award in 2018.
About River Safari
Nestled between the Singapore Zoo and Night Safari, the River Safari is both a river-themed zoo and aquarium. Singapore's newest wildlife park has over 6,000 animals, including 40 threatened species, with zones that replicate the habitats of rivers across the world, from the Mississippi to the Yangtze.
Booking Validity
Valid indefinitely, Valid for 1 use(s) only
Inclusions
Donation of One Child/Adult Ticket for Singapore Zoo and River Safari
Exclusions
E-tickets for Singapore Zoo and River Safari
Change & Refund Policies
Once this product is successfully booked, it cannot be changed or cancelled
How to Use It
Terms & Conditions
Products redeemed with SingapoRediscovers Vouchers are non-refundable and non-resellable.
Terms and conditions on the use of SingapoRediscovers Vouchers apply. Visit Singapore Tourism Board for more information.
------------------------------------------------------------------------------------------------------------------------
Check your remaining SRV on SingPass.
Choose the type and number of tickets you wish to purchase and donate to our beneficiary group.
At checkout page, click the SRV button to redeem your promo code.
Copy the promo code and complete payment on Trip.com.
After donation completed, you will receive Trip.com's confirmation email instead of actual tickets for Singapore Zoo and River Safari.
Activity Essentials
Traveller Information
Adult: Age 18+
Senior: Age Under 17
Important Information
This activity is NOT applicable for $10 child subsidy.
If the donation amount exceeds your SRV balance, you may complete the payment by cash or credit card.
Trip.com will work with the charity and attraction to fulfill the objective of the programme.