Activity Details
Acting as Singapore's window to the world, Jewel Changi Airport (Jewel) is a brand-new architectural wonder that offers a unique lifestyle experience for Singaporeans and tourists alike. Conveniently located at the heart of Changi Airport, Jewel is set to impress with its glass and steel façade, extensive landscaping, and over 280 retail and dining outlets. Engage your senses as you experience the sights and sounds of nature in Singapore's largest indoor garden, and enjoy a splendid light and sound show at night, featuring the world's tallest indoor waterfall. Jewel promises an exciting and fun experience for all, with various play-attractions that will delight the young and young-at-heart. Where the world meets Singapore and Singapore meets the world. Only at Jewel Changi Airport.
Step out of the airport right into a lush green sanctuary, a tranquil retreat in the core of the world's best transport hub. Immerse yourself in this garden wonderland and meet Singapore, the City in a Garden. Please spend 30minutes to relax yourself in the Forest Valley.
Jewel's top floor is a 14,000 sqm recreational wonderland for all. Play or dine under the sparkling glass canopy amidst luscious foliage. Canopy Park welcomes the young and young at heart with an array of exciting play attractions. From mazes to bouncing nets, it's all fun. Take a stroll along creative garden trails, glide down giant slides or hide in bowls of gentle mist. Spend hours at play, or simply relax at one of many charming diners.
Take in the grandeur of the HSBC Rain Vortex, the world's tallest indoor waterfall at 40 metres high and the nucleus of Jewel.
Canopy Park
Admission to Canopy Park includes:
1. Discovery Slides
It's a work of art; it's a playground; it's a viewing deck… Discover for yourself the different ways to enjoy this giant sculptural playscape!
2. Foggy Bowls
Let your toddler slip in among puffs of cloud and hide away in gentle bowls of mist. Kids will love the chance to play in this dreamy setting and let their imagination take flight.
3. Petal Garden
Enjoy creative displays of seasonal flowers from around the world. Coming in every colour and shape, from the delicate to the flamboyant, these blossoms will lift your spirits. Capture fabulous photos as a memento of your day at Jewel!
4. Topiary Walk
Amid the greenery, how many animals do you spy? Let your imagination run wild with the topiary animals at the photo-friendly enclave.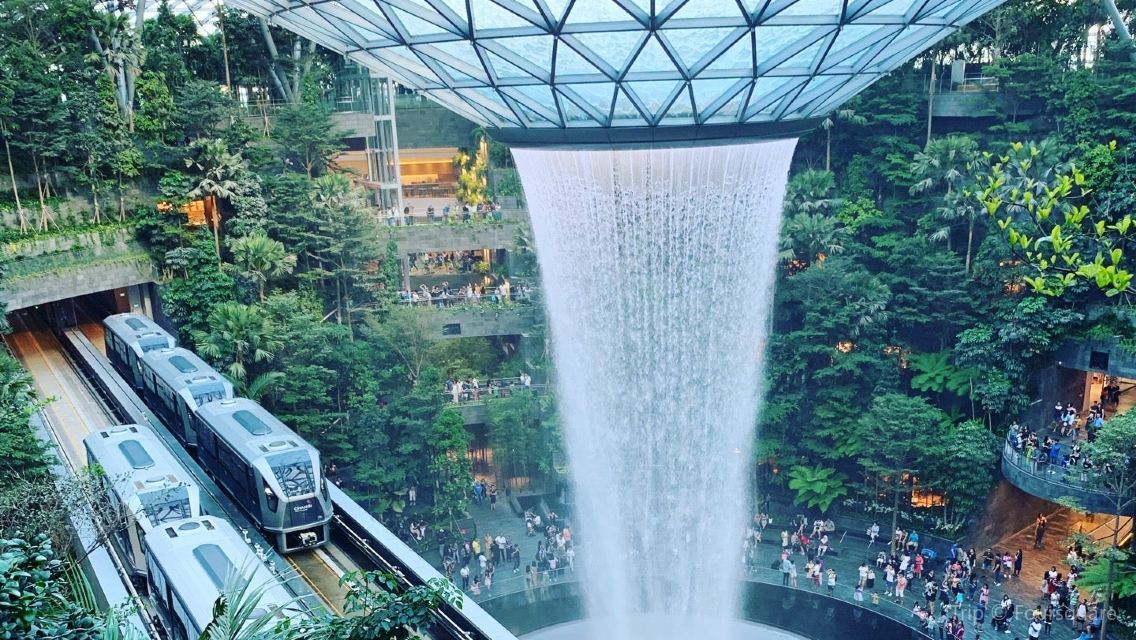 Separate admission charges apply to:
1. Canopy Bridge
Suspended 23 metres above ground, take a walk on the Canopy Bridge for a gripping vantage point. With a glass bottom at the centre portion and fog emitted at both ends, experience what it feels like to walk among the clouds.
2. Hedge Maze
Have a field day weaving your way through Singapore's largest hedge maze. Be rewarded with a bird's eye view of the maze's intricate windings when you reach the watch tower at its core.
3. Mirror Maze
The Mirror Maze boasts a unique cover of greenery branching overhead, creating the illusion of endless bowers before you.
4. Manulife Sky Nets - Bouncing
Experience the thrill of being almost weightless as you leap about this giant net! Stretching 250 metres long, even little ones can safely indulge in free play. At its highest point 8 metres above the Canopy Park, you'll feel like you can reach the sky.
5. Manulife Sky Nets - Walking
Suspended across a void, this is one walk you won't forget. A taut web 25 metres above ground affords an indescribable sensation of lightness.
Inclusions
Canopy Park Admission Ticket (Discovery Slides+Foggy Bowls+Petal Garden+Topiary Walk)
Or Canopy Park Admission Ticket + Hedge Maze Ticket
Or Canopy Park Admission Ticket + Mirror Maze Ticket
Or Canopy Park Admission Ticket + Walking Network Manulife Sky Net - Walking Experience
Or Canopy Park Admission Ticket + Jumping Net Manulife Sky Net - Bouncing 60 Minutes Experience
Or Canopy Bridge Ticket
Change & Refund Policies
Once this product is successfully booked, it cannot be changed or cancelled
How to Use It
All times are given in local time
Present the e-voucher on your phone to staff to gain admission
Address: Canopy Park (Level 5), 78 Airport Boulevard, Singapore 819666
Canopy Park Opening Hours: Mon - Thu: 10:00AM - 10:00PM, Fri - Sun, Eve & PH: 10:00AM - 11:00PM
Activity Essentials
Traveller Information
Adult: Age 13-59
Child: Age 3-12
Senior: Age 60+
Free for children under 2
Important Information
Minimum height requirement of Discovery Slides & Manulife Sky Nets is 110cm
All Child ticket holders must be accompanied by a paying Adult
It is recommended to wear comfortable shoes to enter the Canopy Park and other facilities for walking, climbing and slipping
It is recommended to wear trousers and comfortable shoes to enter the Manulife Sky Nets network
Please place large and hand-laden luggage in the belongings before using facilities