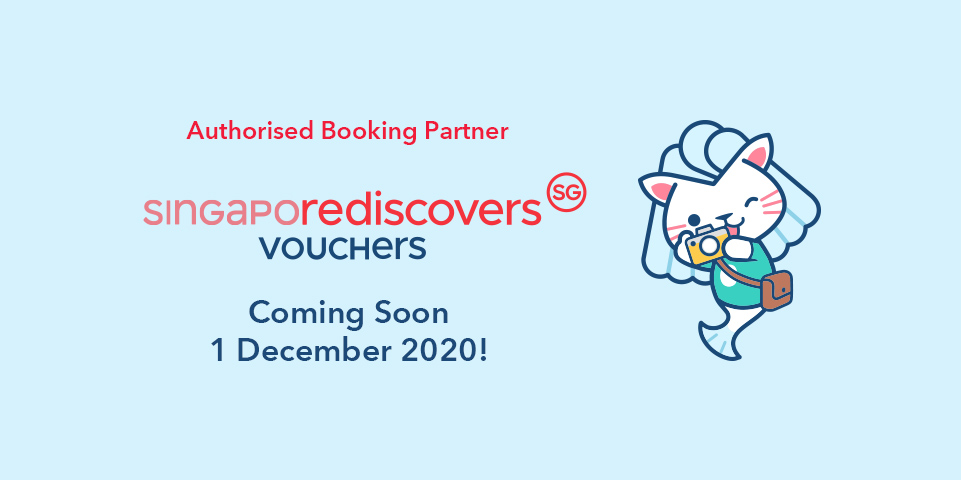 SINGAPORE, 23 NOVEMBER 2020 – Trip.com is pleased to announce its appointment as an authorised booking partner for Singapore Tourism Board's (STB) SingapoRediscovers Vouchers (SRV) scheme which will be launched on 1 December 2020.
In July 2020, the STB launched the new SingapoRediscovers campaign, designed to boost domestic tourism by encouraging locals to explore Singapore. The STB announced in August that each Singapore citizen aged 18 years and above will receive $100 worth of Vouchers which they can use for bookings of hotels stays, attractions tickets and/or tours.
Following a competitive tender which closed on 1 October 2020, Trip.com was selected as one of the authorised booking partners for SRV to facilitate the redemption of the SingapoRediscovers Vouchers.
Ms Jane Sun, Chief Executive Officer of Trip.com Group, said: "We are grateful for the targeted and swift measures taken by the Singapore government to stimulate the tourism sector during the past one year. The SRV scheme will be key to stimulating demand for local tourism offerings while allowing Singaporeans to rediscover this beautiful country."
"We are humbled and honoured to have been appointed by STB following the tender process, and we look forward to continuing to work closely with our partners in Singapore to support their recovery efforts and emerge stronger from this pandemic," Ms Sun added.
Mr Christopher Kang, Director of Commercial Strategy at Mandarin Oriental Singapore, said: "We are delighted to introduce our exclusive Trip.com SingapoRediscovers Vouchers campaign. Redeem SGD 100 SingapoRediscovers Vouchers in its entirety on a staycation at Mandarin Oriental, Singapore and be rewarded with SGD 100 dining credit. Lounge by the 25-metre outdoor pool in private cabanas and tuck into sumptuous poolside snacks or savour a myriad of flavours at the hotel's award-winning restaurants, from exquisite Cantonese fare at Cherry Garden, authentic Italian classics at Dolce Vita to a selection of bespoke cocktails and tantalising bar bites at MO BAR, one of Asia's 50 Best Bars 2020."
"Additionally, we are extending complimentary extra bed and breakfast for the third or fourth occupant in our Premier Rooms or City Suites. Collaborating with Trip.com allows us to tap into a wealth of expertise, providing much-needed insights which are used to tailor our offerings to customer needs and add value to our products and services. Trip.com's digital capabilities make it one of the leading global OTAs and we look forward to further strengthening our four-year long partnership with them through this upcoming campaign," Mr Kang added.
Mr Ervin Yeo, Managing Director for Southeast Asia at The Ascott Limited, said: "Through Trip.com, guests can redeem their SingapoRediscovers Vouchers for a memorable getaway at Ascott, which was recently recognised as 'Singapore's Leading Serviced Apartment Brand' by World Travel Awards. We are excited to showcase the great experiences Ascott can offer through Trip.com's expansive network. We look forward to deepening our longstanding partnership with Trip.com."
Ms Sharon Chen, Director of Revenue Management at The Fullerton Hotel Singapore, said: "Trip.com has been a trusted partner for over 5 years. Their support has been invaluable throughout the COVID-19 pandemic. They swiftly stepped up their marketing campaigns as the impact of COVID-19 reverberated across the hospitality industry and their marketing campaigns, such as the livestream sessions, were effective in ensuring the Fullerton brand stays at the top of mind among consumers. We have the confidence that Trip.com will continue the positive work they have done as one of the chosen platform providers for the SingapoRediscovers Vouchers."
Mr Jorge Fernandez, Director of Revenue Optimization at Shangri-La Hotel Singapore & Jen Singapore Tanglin by Shangri-La, said: "We appreciate the Government's implementation of various programmes to support our sector over the past few months - with the SingapoRediscovers Vouchers being the latest initiative. We have seen an increase in bookings in recent months and are optimistic that the SRV will further stimulate the local tourism industry. Through our collaboration with our valued partner Trip.com, we will be introducing several exciting packages for various groups of Singaporeans during the SRV campaign. We promise a unique experience for our guests and we look forward to welcoming them at Shangri-La Hotel Singapore in the coming months!"
Mr Fredrik Johansson, Assistant Vice President of Resorts World Sentosa, said: "Resorts World Sentosa is excited to be a part of SingapoRediscovers campaign and participate in this domestic tourism program. Singaporeans now have the unique opportunity to explore our integrated resort in every splendid corner. Leveraging Trip.com's digital capabilities and abundant marketing resources, our latest collaboration would bring various exciting products to the local market. With our hands joined together, we are confident to showcase wonderful experiences and reinvigorate the local tourism industry in Singapore."
Ms Jean Choi, Vice President of Sales, Wildlife Reserves Singapore, said: "We are excited to welcome the local community of holiday-makers to our parks where they can reconnect with nature and enjoy meaningful wildlife experiences as part of their "Singapoliday". Our parks are windows to the wild and guests can appreciate the naturalistic habitats of a wide range of animal species. With the year end holiday season starting soon, we have exciting campaigns and activities lined up, and we look forward to being a part of the SingapoRediscovers Vouchers scheme with Singapore Tourism Board and Trip.com."
Ms Jacqueline Low, Director, Sales, Business & Channels Development of Sentosa Development Corporation (SDC), said: "In anticipation of the roll-out of the SingapoRediscovers Vouchers, SDC, together with our Island Partners (tenants), have launched a range of holiday packages attractively priced in denominations of $100, bundling various leisure experiences, with discounts of up to 50%. Called the Sentosa $100 Getaway Deals, the packages are part of a landmark campaign to encourage locals to Make Time for a Holiday in Sentosa, while supporting local businesses as they manoeuvre the challenges in the current global climate. We look forward to collaborating with Trip.com to welcome even more locals to Sentosa's diverse array of unique leisure experiences."
Ms Ru Yi, General Manager of Trip.com Singapore, said: "Apart from our expertise in key areas such as technology, product development and customer service, we have established strong relationships with the majority of hotels, attractions and tours in Singapore, and have also been involved in similar projects aimed at boosting demand for domestic tourism products."
"We value and appreciate the trust and confidence our partners have in us, and we will be collaborating closely with them to create unique experiences for Singaporeans. Our goal is to support the recovery of the tourism industry, and to empower our citizens to explore the myriad of offerings on our sunny shores and rediscover Singapore."
Trip.com will announce more details, including redemption mechanics and a range of packages, next week.