There's nothing like planning ahead to get the best flight and accommodation deals, not to mention, something to get us waiting in excitement. But before you reach out for your passports to jet set halfway across the world for a long-haul holiday, not so fast! You can STILL plan mini-trips during the upcoming weekends, and with the super long Chinese New Year weekend coming (5-9 days!), where should you land your dart and travel to next? 
Malaysia
Adventures in Kuching, East Malaysia
If you're looking for a getaway close by, Kuching will fill your three-day long weekend. Definitely try these 13 mouthwatering dishes in Kuching, and when you're done stuffing, pick a hike at the Bako National Park. You can also kayak through the rainforest and stop by waterfalls along the way.
How to get there:
1.5hr direct flight from Singapore to Kuching
Vietnam
Da Lat, Vietnam
An hour's flight from Ho Chi Minh is the hill town of Da Lat. It's also known as Little Paris (Le Petit France) for its French colonial architecture.
Being elevated 1,500m above sea level, the climate here much cooler at around 10°C between December to March. It's the perfect place to escape Singapore's heat!
Wander around town admiring the quaint French architecture, or go trekking to visit some of the most gorgeous waterfalls like Elephant Falls or Pongour Falls (pictured above).
If you're here for New Year's eve, be sure to catch the fireworks over the various lakes!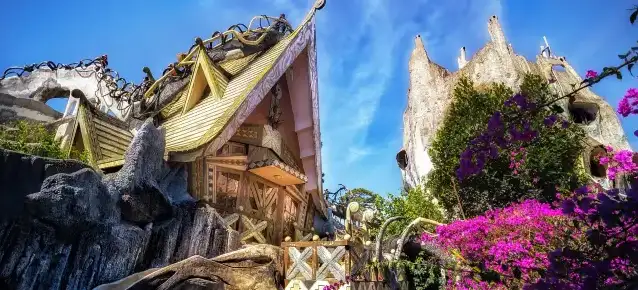 Best time to visit: December to March
Recommended leave: 31 Dec – 3 Jan 2021
How to get there:
3hr flight from Singapore to Ho Chi Minh (flights from S$66), 1hr flight from Ho Chi Minh to Da Lat
The Maldives
From Singapore, you will fly to the Maldives, and depending on the resort you choose, you will be met at the airport and be whisked off in either a speedboat or seaplane to your resort island.
With fine white sand, palm trees and crystal clear blue waters, the Maldives really are the ultimate exotic beach escape. With tiny boutique hideaways to all-inclusive resorts and contemporary hotels to rustic retreats, there are a plethora of hotels to choose from and each one enjoys the exclusivity of its own island.
How to get there: